Why newsletters are important, how to plan what you'll talk about, and how to write your newsletters in a way that connects with your customers.
Meet Angus.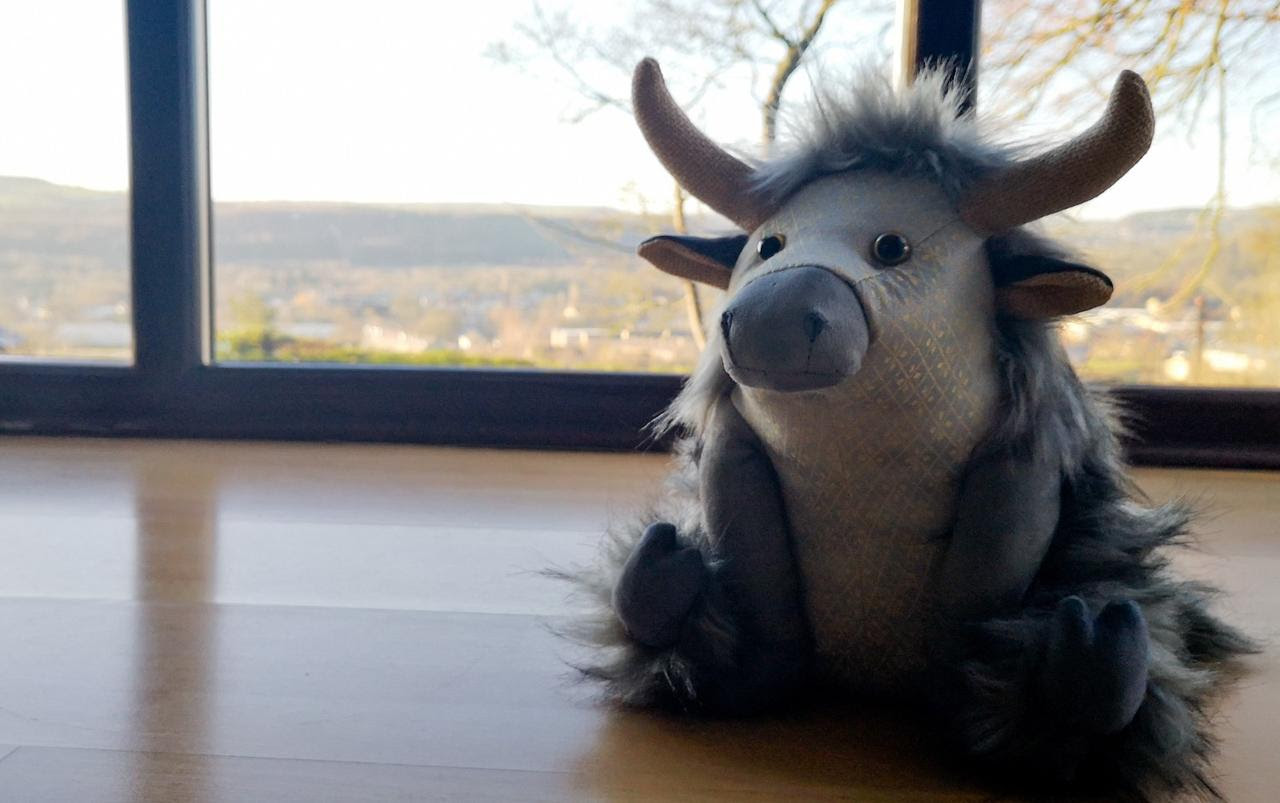 (He says hi)

Angus came into my world earlier this week.

He's a doorstop – we've moved house – and we have a new door that needs stopping.

However, I first saw Angus *years* ago.
I mean years, it might have been 5-10 yrs ago. Thought he was cool. Didn't have any doors that needed stopping, so he went somewhere into the grey cells in my brain, under 'cool things in the world'.

The key thing is – I didn't get my bank card out for him then.

Now…
I have a door that needs stopping, and the first thing I thought of – from YEARS AGO – was Angus.

So here he is.

Why am I telling you this story?
Because some of your customers are like me.
Some of them have your business mentally filed away for a future date.

But, for whatever reason – and there can be many; timing, money – they haven't got out their bank card yet.

I've seen this *so* many times, for myself and with my clients.
When we carry out marketing analysis, we regularly see that some people who've been on your newsletter list for 6-12 months, or longer – do eventually buy.

This is why consistency is so important for your business.
To be consistently visible.
To consistently communicate with your audience.

Hands down, your newsletter is the best – most direct way – to engage with your audience.
You're not relying on social media to share your content, where generally about 10% of what you create gets seen by your followers, unless you've paid to advertise to them.
Unless you've ended up in their spam folder, the decision on whether to see your content lies entirely with your audience.

So when you're thinking and planning for the next quarter, make sure your newsletter (and consistently sending one) is in there as a priority.

What on earth do I write about?

We've covered why it's so important to have a newsletter; to grow one, and connect with your audience.
But the biggest source of resistance to this is generally, 'What on earth do I write about?'

Trust me, you're not the only person to look at a blank page – or planning document – and think, 'Eeep?!'

Let's make it super-simple.
There's a science and an art to this – and you can learn to do both quite quickly.

The science is to create a formula.
What could you consistently talk about or share?
– New product launches
– Case studies of your clients (e.g., as a coach, wedding photographer, illustrator, designer)
– A sneak peek of your upcoming offers
– Introduce a new product / element in your business, with the background or story
– Tips or advice on what you do / sell
This kind of content builds excitement for your business – piquing interest, and letting your readers see what it might be like to work with you / buy from you.

Capture ideas & inspiration
The more you think about writing for your audience, the more ideas will come to you. Stories, observations – think of your readers like a friend that you really love – Oooh, I must tell you this! For example,
– Talking about seeing a real variety of mushrooms on a walk, and linking to 3 great recipes for (store bought) mushrooms, for a nutritional coach
– Visiting an artist exhibition, and talking about that experience and moments of inspiration, for a craft workshop studio

Calls to Action
For each topic, think of a call to action at the end.
This doesn't need to be 'buy my widget', but it could be softer, e.g.,
– If you'd like to explore working with me on XYZ, you can learn more here [link].
– 3-4 relevant images of products (linking to the product pages), at the bottom of your email.
Now, from what you've chosen, put together a formula for your weekly newsletters, e.g.,
Week 1 – Inspiration / story
Week 2 – New product promo or offer reminder
Week 3 – Case Study
Week 4 – Inspiration / story
Week 5 – Tips

Sound good?
You can do this quickly – what could your formula look like?

Then brainstorm ideas for your inspiration & tip posts (you only need a couple a month) and you'll know what you'll talk about.
If you're still feeling resistance, set the timer on your phone to an hour and just do it. See what comes to mind. You're likely to find you have a full 12 months of content planned out in no time.

And the art? To write with ease.
If you're on board with the idea of newsletters being useful, you've got some great ideas of things to write about, but now…
(the blank page)

Let's get you over the blank page quickly.

First a reminder – what do you want your newsletter to do?
A) Build a relationship with your community – be friendly, be inspiring, be insightful, be funny, or a mix of these. What makes sense for your business? Pick that tone.
B) Sell your products and services

Unless you have a product business with a large stock range, you don't need to go down the route of a 'John Lewis' style email – full of gorgeous photography and eye-catching clickable headlines. If that is you, gather examples of newsletters you like and look for the commonalities of what you like. Use this as inspiration.

However, if you want to write a newsletter with a few paragraphs and share a lovely image or two, here's how I'd approach it.
Starting to write is often the trickiest part, so skip it by using bullet points.

1) Use the 'Hello, 1, 2, 3, CTA' Method (This works for blog posts too).
Set your blank page up like this:
Hello –
1 –
2 –
3 –
Call to action –

With your topic, what are the three things, information or ideas you want to tell your audience? They could be separate or build on each other.

If you were a fitness coach, writing tips for running in cold weather, it might look like this –
3 Quick tips to make running in cold weather more fun
Hello –
1 – Warm up first
2 – Dress for it (quick list of recommendations)
3 – Have the wind to your back
Call to action – I'm opening the doors to my new online fitness programme soon. To get early access when it opens, join my waitlist here.

Full transparency, I'm not someone who runs outdoors in cold weather. I curse myself when I forget to put the heater on in our garage before using the cross-trainer in there, so if you're a fitness guru, fill in with your top tips.

2) Next, think of a small, quick story that adds to – or you can bookend around – your three points.
If I was writing the fitness one, the quick story about the cross-trainer in the freezing garage would make it into mine. It doesn't need to be a 3-act play, just a short nugget that lets people into your world.

You can capture these as you think of them throughout your day:
– The neighbour's cat that's practically moved in and sits proudly in your front window, bursting your secret arrangement, the wee scoundrel. (True)
– The plant that mysteriously stayed alive even though you were rubbish at watering it, until you discovered your best friend quietly watered it every time they came around. (Also true)

You get the gist. Those little things that make you smile, jot them down and they might come in handy when you're next writing.

The idea with your newsletter is to build those relationships, and by far the easiest way is to imagine you're talking to a good friend (who happens to be your ideal customer).
It's not about being over-familiar, but having a level of ease and comfort in talking to them – that definitely comes across in your writing.

3) Let's Speak-Type
I'm going to guess that when you're with someone you really enjoy spending time with, you have no problem talking to them. You chat, it's easy, the words flow.
So imagine you're writing your newsletter for that person.

You know the little story, you know the three quick things you want to say, and then you're going to flow into wrapping it up.
But forget writing English essays for now, you're just going to chat.

Speak what you want to say out loud, then type those words. Speak. Type. Speak. Type.
Before you know it, you have that conversation on the page.

4) Finally, edit and polish
Now, tidy it up.
Have you wandered off topic? Repeated yourself?
When you read it back, do the words flow?

If you can, get someone else to proof read it for typos (a second pair of eyes always helps!) and then share it with your audience.

The more you do this, the easier it gets – and the more your audience get to know, like and trust you.

Happy writing!

If you'd like more content like this in your inbox, join Simplified Strategy, my free weekly email series to create a more spacious and aligned business, tailored around your strengths. You can sign up below.
And if you'd like to explore working with me, you can learn more about One-to-One Coaching here.